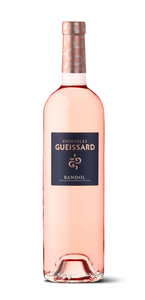 Region
Côtes-de-Provence
Wine Description
Not long ago, husband and wife Clement Minne and Pauline Giraud embarked on their vineyard journey in the esteemed Côtes-de-Provence appellation. At the beginning of their venture, they faced financial challenges and operated from a shared winery project. With unwavering determination and years of hard work, they eventually built their own winery and now proudly own over 25 acres of Côtes-de-Provence vines.
For this rosé blend, they used a quarter each of Mourvèdre, Syrah, Cinsault and Grenache. This salmon colored rosé is rich with aromas of red fruits such as strawberry and raspberry, and a distinct grapefruit quality, underlined with notes of litchi. 
Grapes
Mourvèdre, Cinsault and Grenache
Decant
Not Necessary
Serving Temperature
Serve Chilled
Pairings
Shellfish, Pork, Poultry, Spicy Food
Shipping Information
Free shipping on orders of 12+ bottles. Click here for all shipping information.