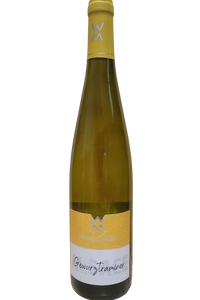 Region
Alsace
Wine Description
With a legacy spanning four generations, this family winery in Alsace has fully embraced organic farming since 2008, showcasing a deep commitment to producing quality wines. Their philosophy revolves around finding the ideal balance between tradition and exploration. 
This Alsace grape variety boasts a full-bodied and well-structured profile, exuding both fullness and elegance. Its aromatic and floral character is accompanied by a gentle and velvety texture that adds to the overall charm of the wine.
Grape
Gewurztraminer
Decant
Not Necessary
Serving Temperature
Serve Chilled
Pairings
Salmon, Pork, Vegetarian, Poultry, Mild Cheese
Shipping Information
Free shipping on orders of 12+ bottles. Click here for all shipping information.